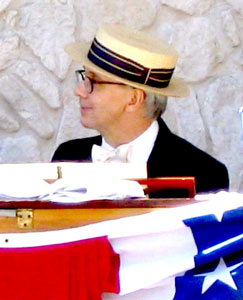 As a pianist and professional musician, I use my full name. As a composer, I use just my middle and last names.

I received 12 years of piano lessons in my youth. During my college years, I played church organ for four years. I've livd in Austin Texas since 1976, playing piano for hotels, restaurants, weddings, and private parties.

Original melodies and improvisations first visited me at the piano when I was twelve. Most of my early melodies were lost to memory before being written down. Then 20 years ago, the personal computer and MIDI software made it possible to save and edit live piano performances "on the fly." Wow, what an improvement over notating music with pencil and paper!

Creating and performing piano music gives me a keen sense of purpose in life, and I continue to enjoy performing classical and popular piano standards at local restaurants, hotels, private parties and weddings. Four years ago, I completed the soundtrack for the independent film "Portrait In Sepia Tone." In 2008 the completed film won gold for "Best Feature Film" and "Best Soundtrack" at the International Film Maker Festival in Kent, England, besting more than 300 competitor films submitted.